The Zelienople Airport is a public, general aviation facility owned and operated by the Zelienople Airport Authority (ZAA). See the Management section of this web site about the ZAA.
The land on which the airport is located was a strip mine in the early 1940's owned by Tasa Coal. When the coal was depleted and the land partially graded, it was sold to Halstead, Inc. in the late 1940's for a private landing strip for their company plane. As the original landing strip was grass, it also provided an excellent field for polo matches.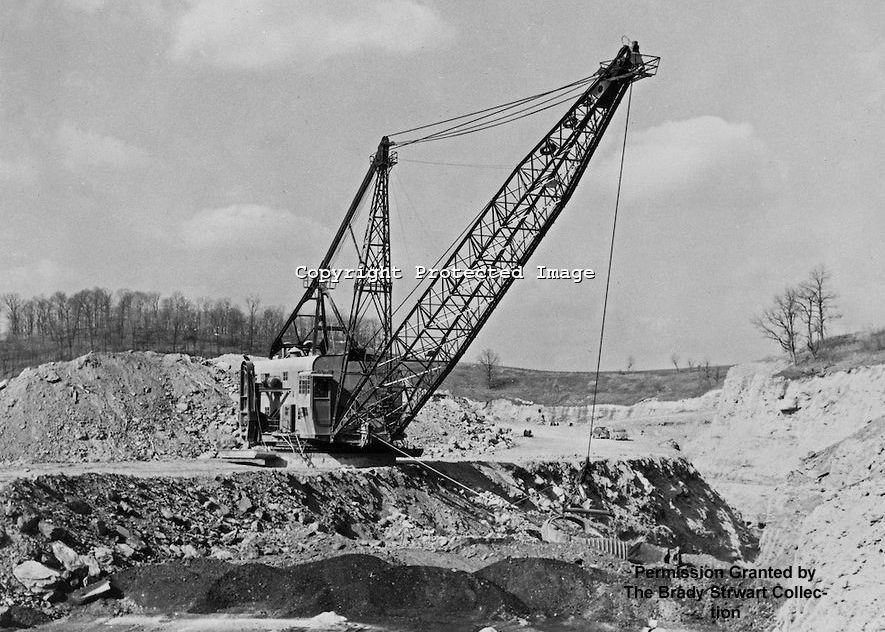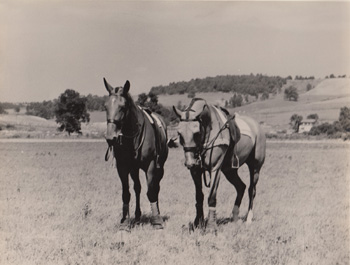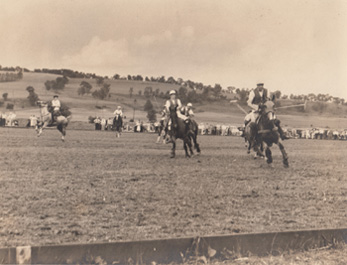 As the popularity of general aviation grew, hangars were built, the runway was paved, and it became an airport open to the public in the 1950's. In 1958 Zelienople Borough formed an Authority and transferred ownership and management from Halstead. In 1973 the Authority was split into two authorities: one for sewage (WBCA – Western Butler Sewer Authority; and the other, what is today, the ZAA (Zelienople Airport Authority).
Because of its close proximity to the fast-growing Cranberry Township and its location close to Interstate 79, the Zelienople Airport became a natural site for expansion to accommodate commercial aviation, light aviation-related industry, and expanded recreational flying. The airport authority, as a municipal entity, was the ideal organization to apply for state and federal grants for planning and expansion.
In 1987, the airport management developed a federally-required master plan. Within ten years it became apparent that professional help would be needed to develop a much wider plan for the future. In 2001 the airport received a planning grant of about $43,000 and awarded a contract to Kimball Engineering, a highly recognized firm in aviation engineering and planning.
The early stages of the planning process involved the formation of several advisory committees representing nearby residents, pilots, township and borough officials, and surrounding businessmen. A large amount of data was collected representing eastern Beaver County, western Butler County, and the requirements of the Federal Aviation Administration for these demographic areas.
Some of the early findings of the planning process were:
Safety was compromised by aircraft and automobiles sharing the same roadways / taxiways.
Usability was limited to small aircraft because of runway length.
Technical features, almost non-existent, for aviation navigation would have to be provided.
Acquisition of public water and sanitary sewage would be a prerequisite to any future development.
In 2006 a comprehensive Zelienople Airport Plan was approved by the ZAA, the Pennsylvania Bureau Of Aviation, and the Federal Aviation Administration. Immediately applications for grants were made, approved, and applied to runway rehabilitation, aviation navigational aids, and elimination of aviation hazards.
From 2006 to early 2012 aviation related improvements were made as funds were available. However, the lack of public water and sanitary sewage literally prevented the building of related facilities. By early-2012 legal and bureaucratic compromises were attained and construction was started for infrastructure and new hangars.
In mid-2012 the Zelienople Airport was 300 acres, it provided facilities for private aviation including hangar and tie-down space.  It houses the Condor Aero Flying Club which provides flight instruction, rental planes and support for its membership.  It housed the Experimental Aircraft Association  which builds and maintains small aircraft and provides other diverse activities.  The Pittsburgh Jet Center was selected as the fixed-base operator which provides maintenance, refueling and charter services.
Further progress is described elsewhere in this web page.
The Changes to Our Airport: 2011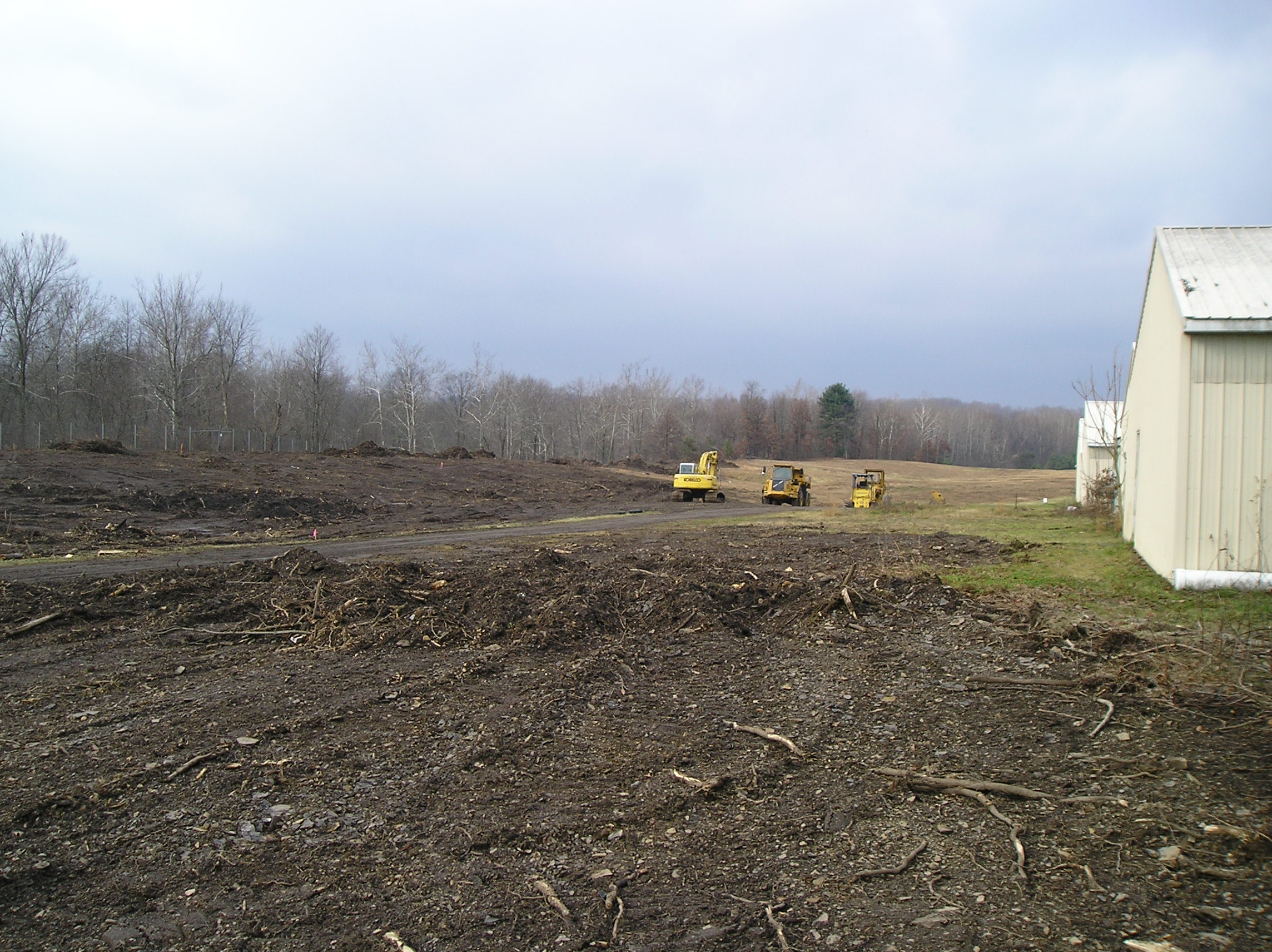 Rough grading started on Nov. 25, 2011. Every work day brings more change.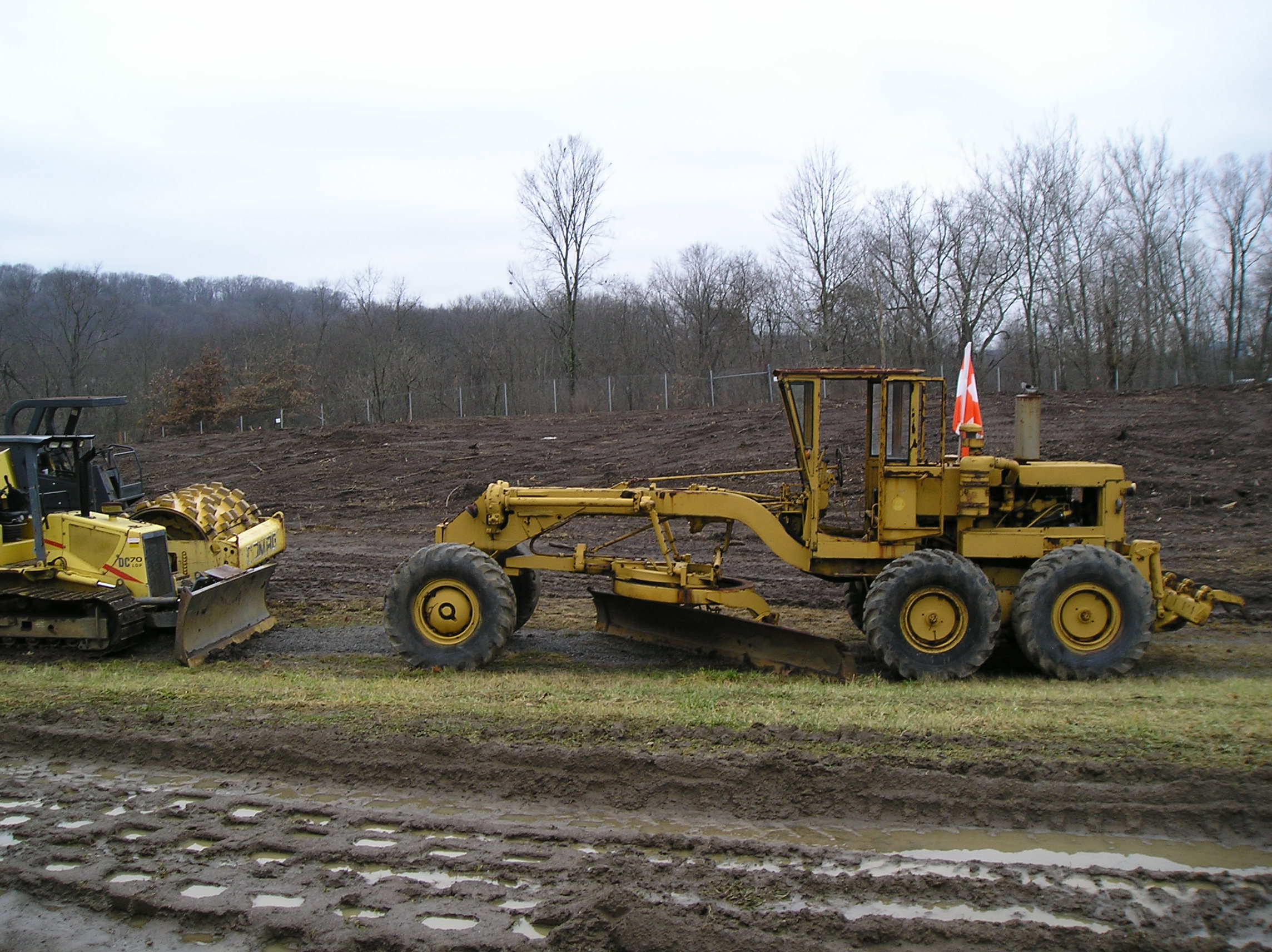 Bringing in more equipment. Hope the weather lets us use it.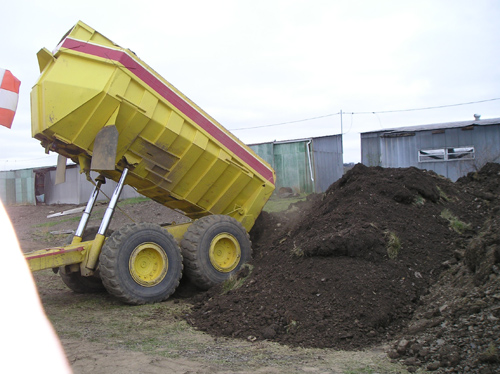 Filling the low areas … end of March.
The Changes to Our Airport: 2012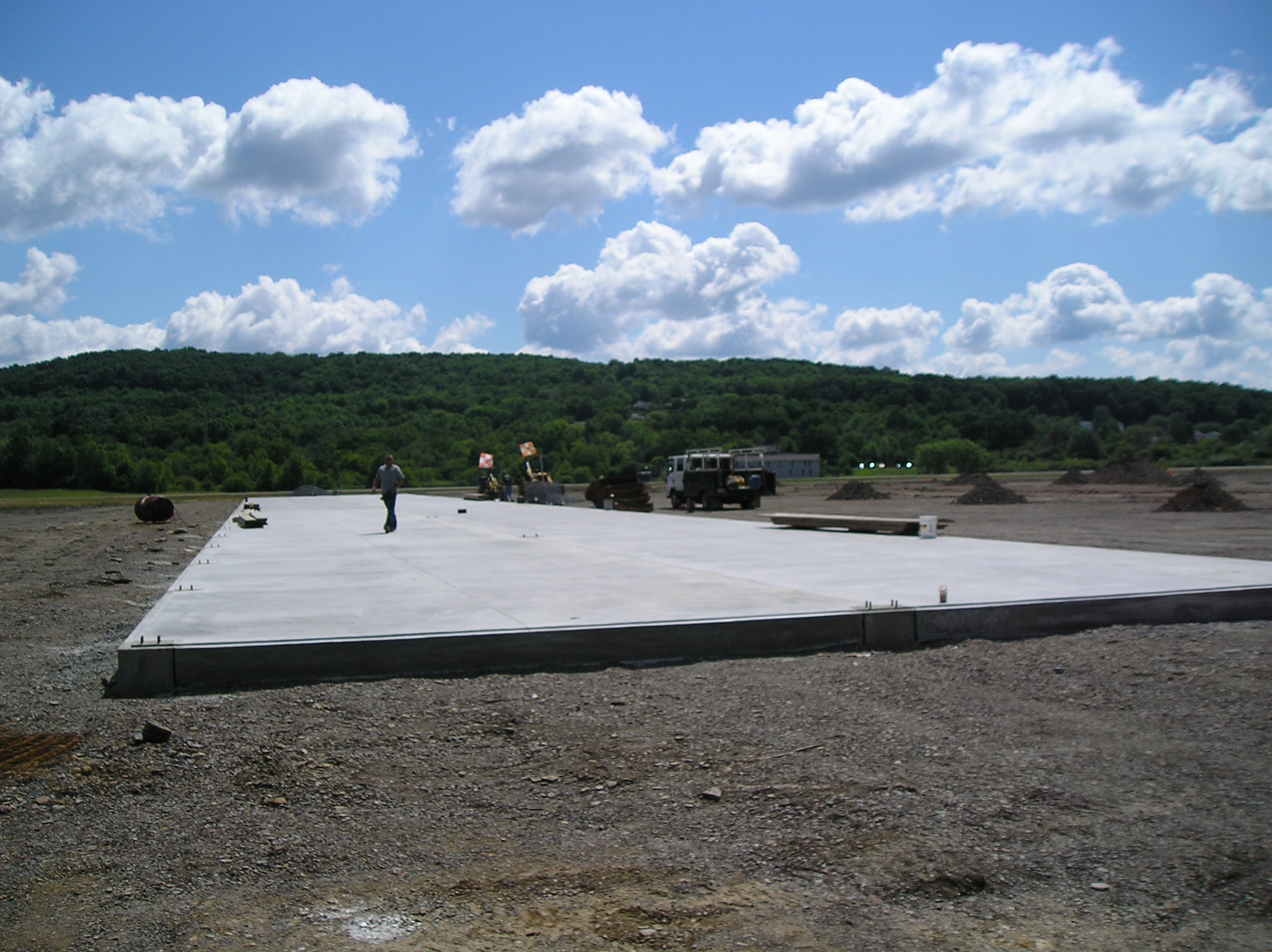 Footers and slabs for first hangar – July 2012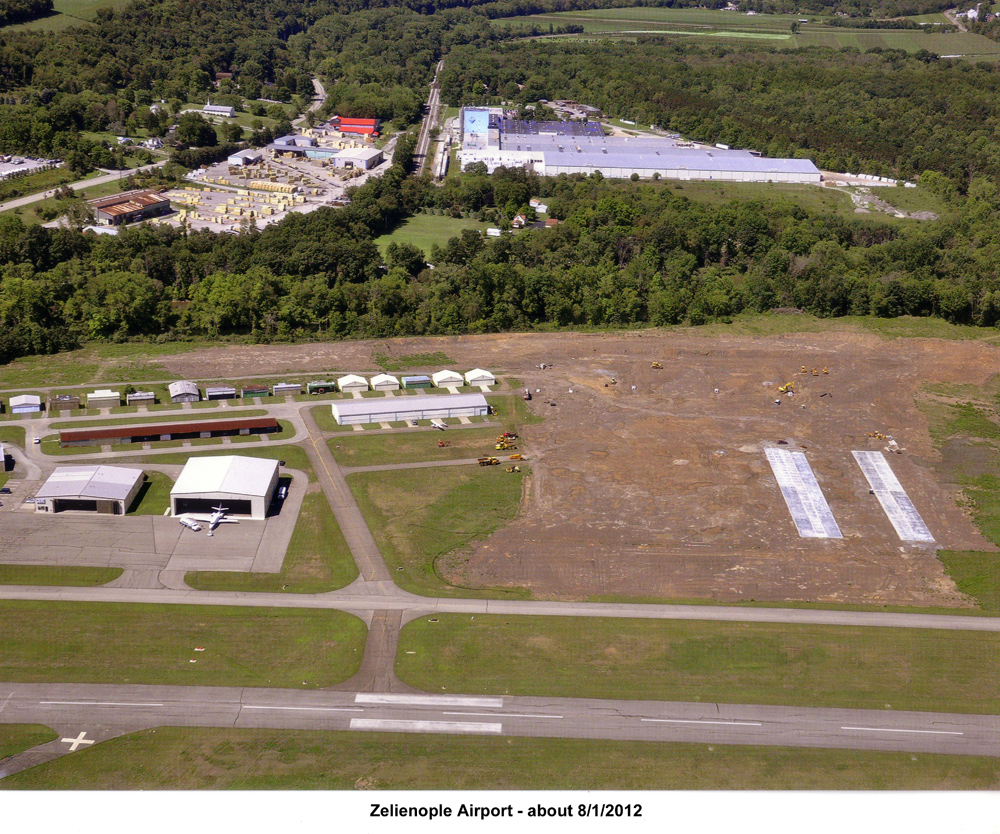 Slabs for 1st and 2nd hangars – August 2012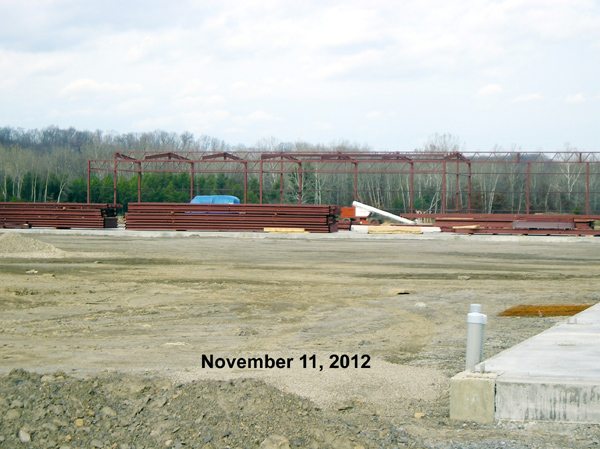 Hangar 1 – Steel frame being erected.
Hangar 2 – Slab completed; steel delivered.
Hangar 3 – Footers and piers completed.
Hangar 4 – Slab completed; waiting for steel delivery.
Sanitary sewers, storm sewers, water, electric and cable services – 90% completed.
The Changes to Our Airport: 2013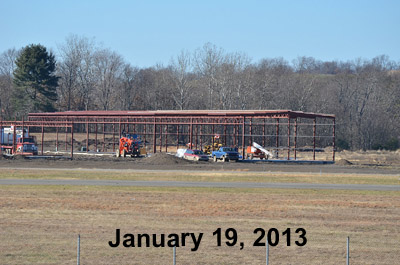 Winter didn't stop all work; progress continued on Hangar 1.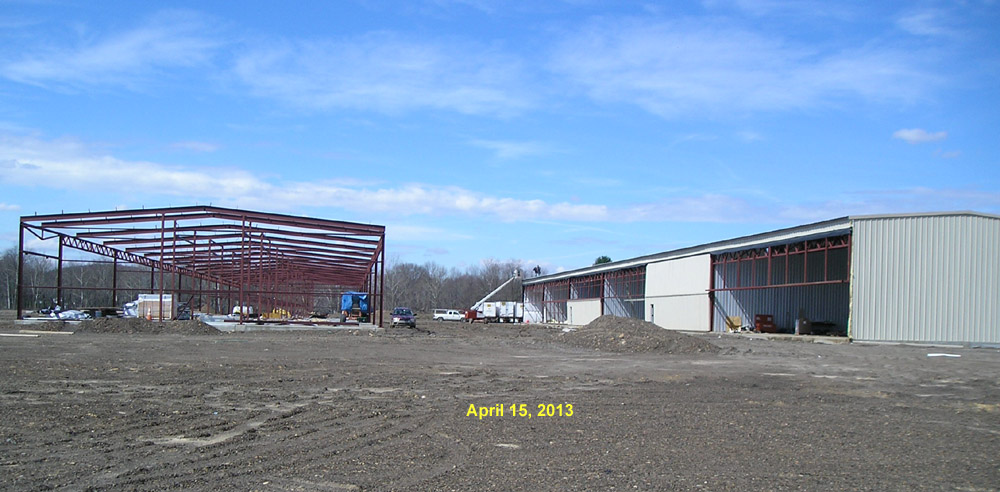 Hangar 1 (on right) sided with some doors hung; Hangar 2 (on left) completing steel work.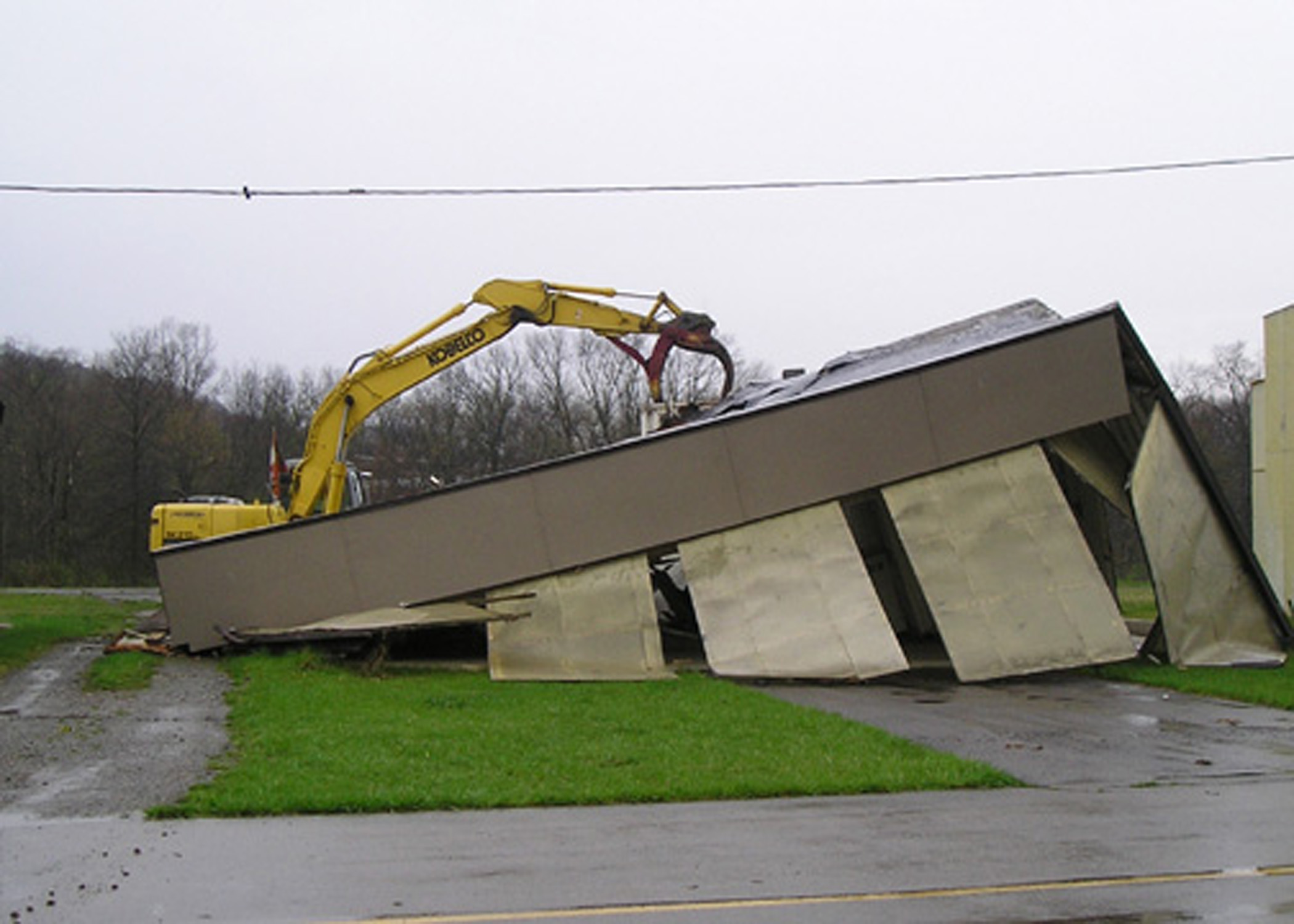 April 24, 2013 – First of the old hangars being demolished. Symbolic of the end of an era and the beginning of another.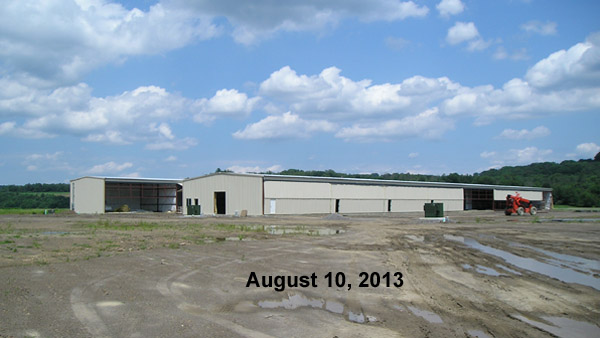 Hangar #1, in back is about 90% completed;
Hangar #2, in foreground, is well underway.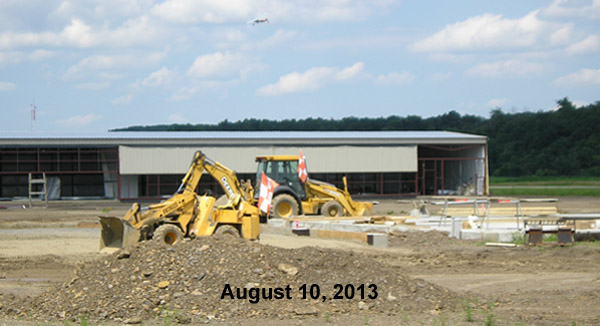 Hangar #3 – Footers and piers completed.
Hangar #4 – Slab completed; waiting for steel delivery.
Hangar #8 – (new) Footers and piers being built; utilities in.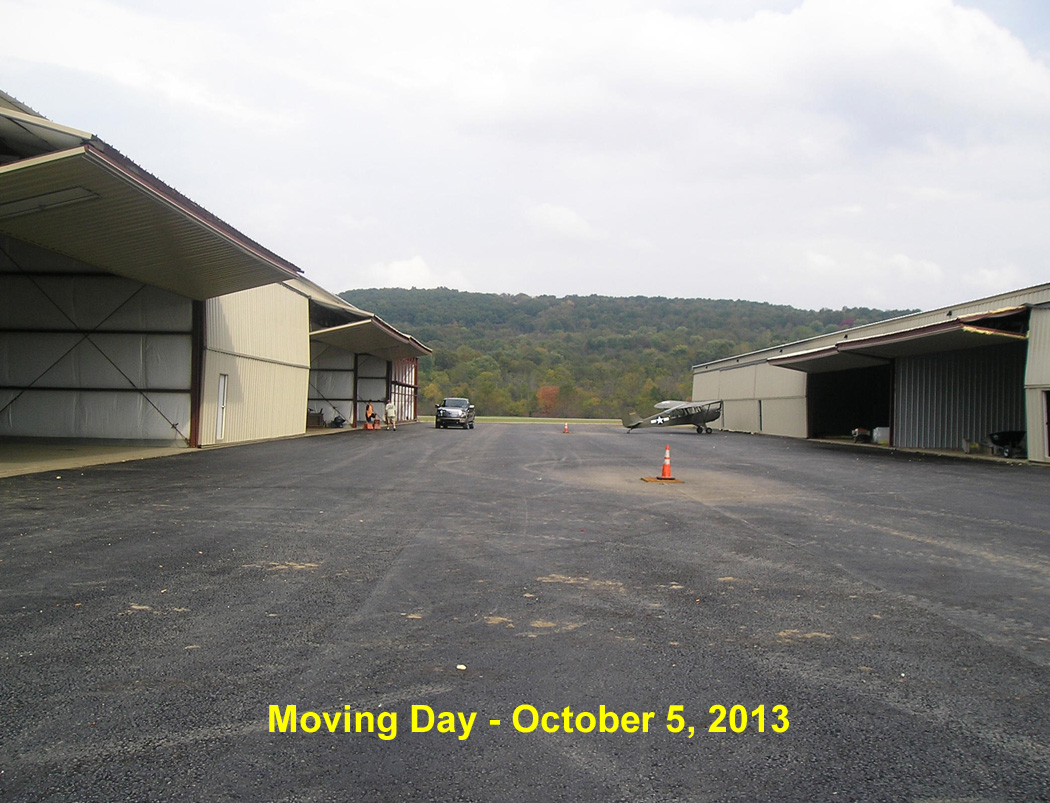 Moving Day – Hangars 1 & 2 – October 5, 2013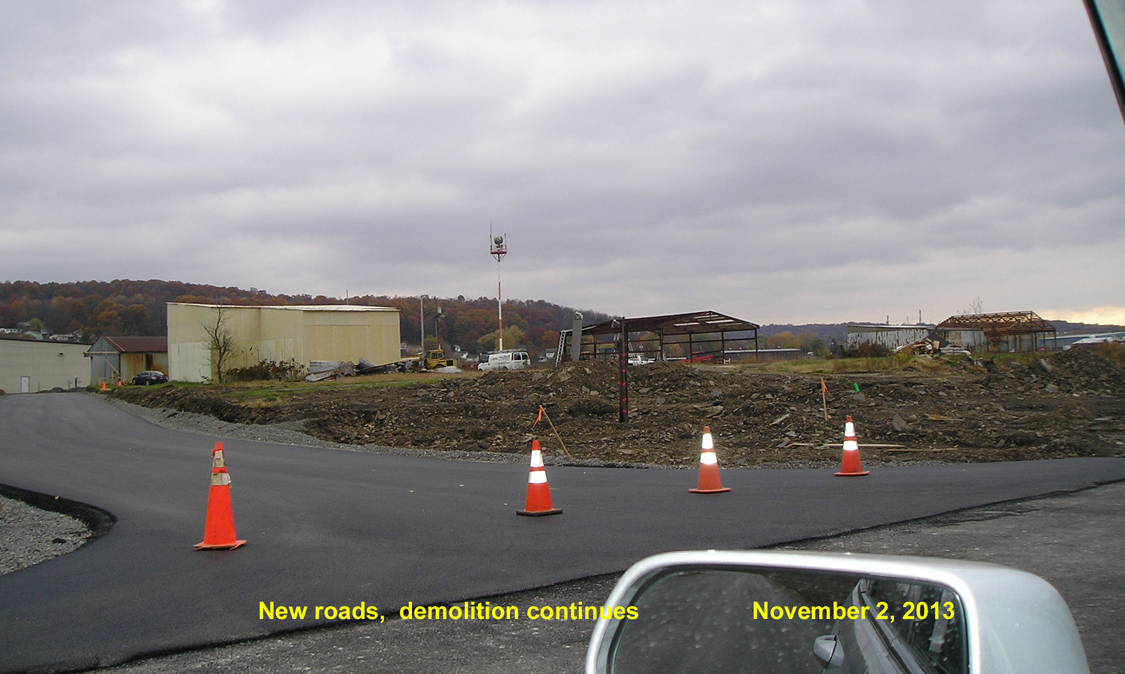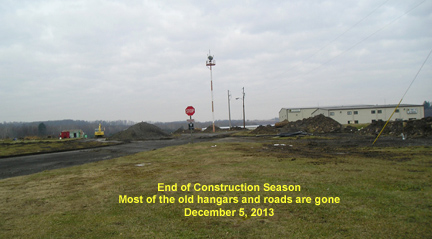 The Changes to Our Airport: 2014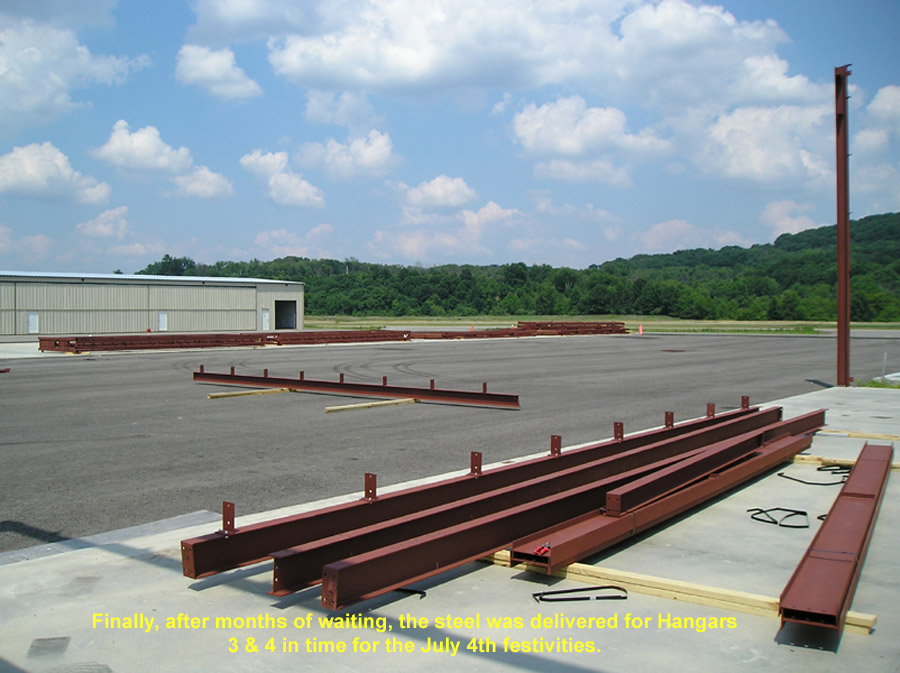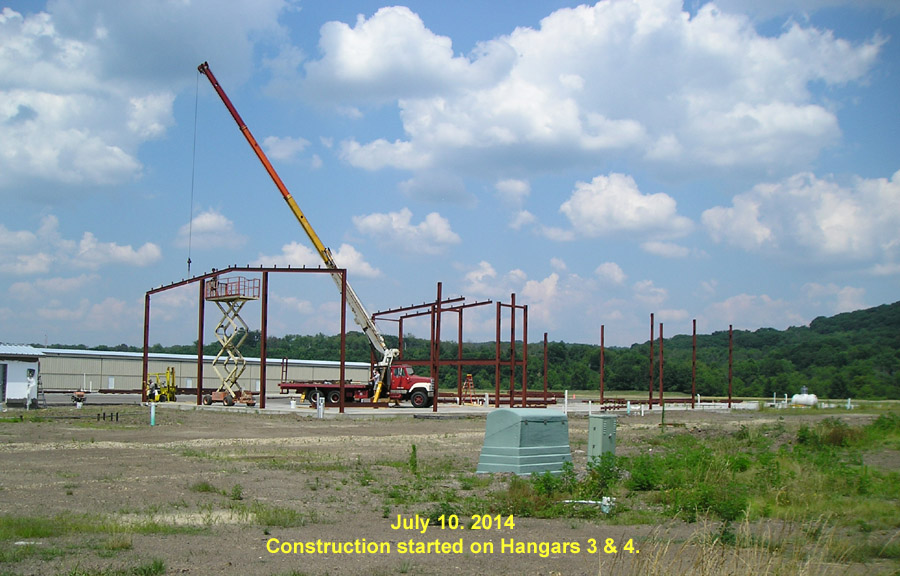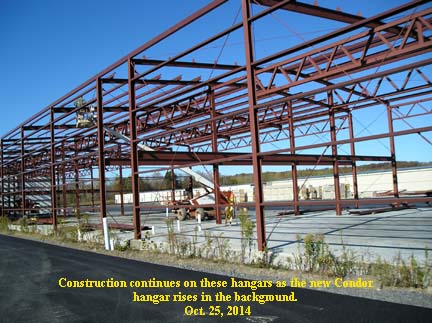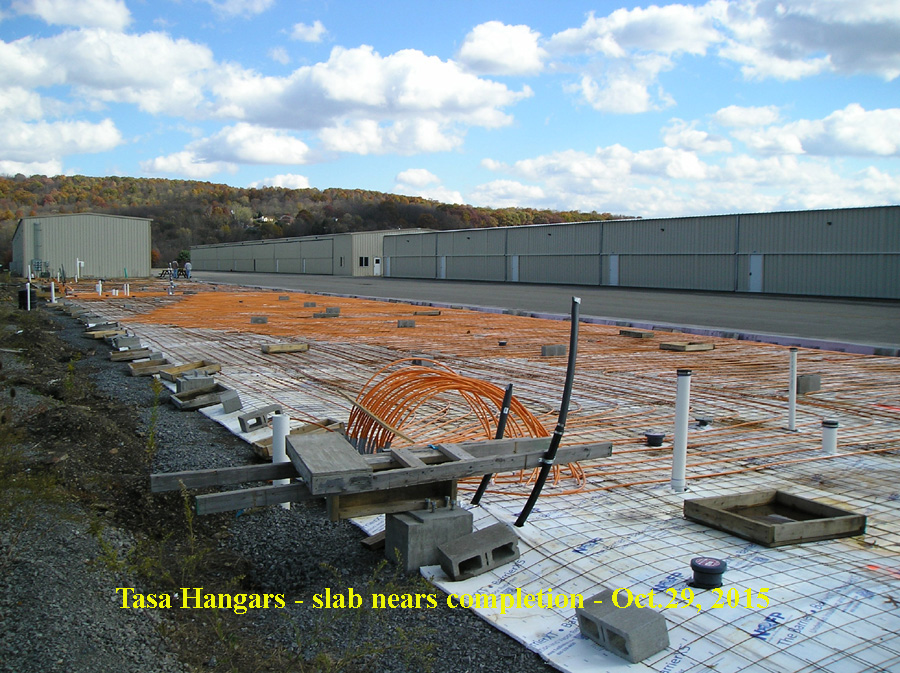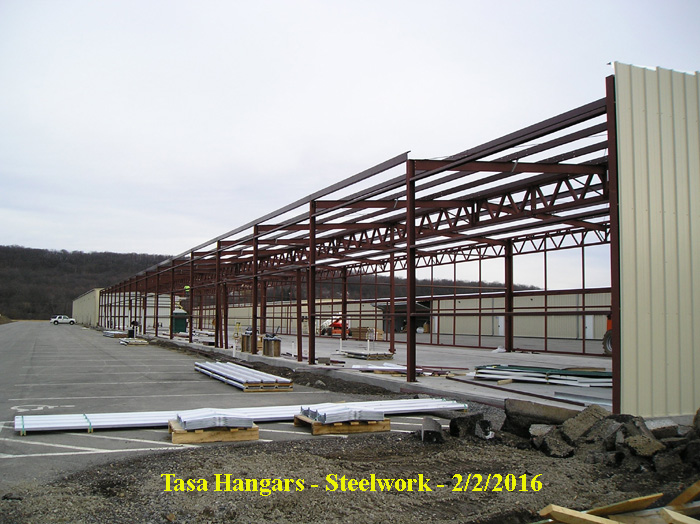 In Early 2016, the Airport Acquired a Snowblower.
It is a monster machine, weighing 48 tons, too heavy to go on state and local roads, and too high for wires and traffic control lights.
But it does an excellent job at the airport in clearing unlimited amounts of snow from the runway, taxiway, aprons and roads.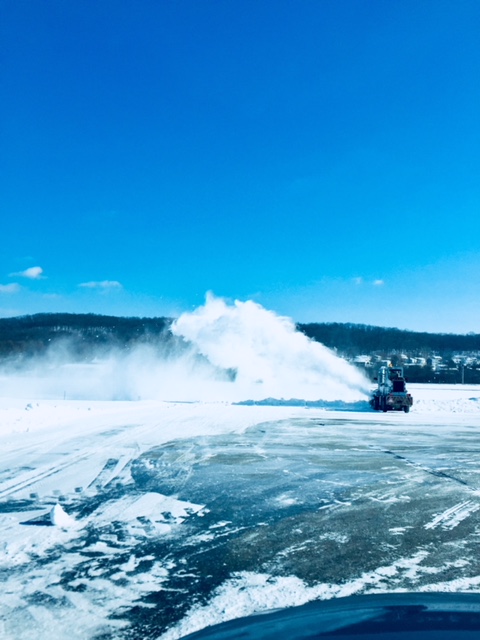 In September 2016, we started the massive project of relocating State Rd. 288, local Lake Rd., the hillside adjoining this area, and filling the remaining part of the old Tasa strip mine.
The airport's responsibilities include excavating over 1,000,000 cubic yards of dirt; hauling it to the strip mine fill site; creating trenches and conduits for relocating water, electric, and communication lines; and relocating waterways and wetlands for surface water.
The pictures below show the excavation area and the fill area in September 2019.